Austin Ugwumadu PhD FRCOG
Austin Ugwumadu is Consultant Obstetrician & Gynaecologist at St George's Hospital, and Senior Lecturer in Obstetrics & Gynaecology at St George's, University of London. His clinical expertise and research interest in the fields of perinatal and gynaecological infections are nationally and internationally recognised.
Since his appointment at St George's Hospital in 2001, he has continued to develop and extend these interests and provide specialist care for women with persistent and intractable vaginal discharge, recurrent Thrush, Bacterial Vaginosis, aerobic and cytolytic vaginosis. He also runs a dedicated and holistic late miscarriage and pre-term delivery clinic as these seemingly innocent infections impact on pregnancy outcome.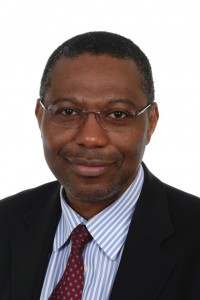 Austin talking about fetal monitoring
Austin had his basic medical education at the College of Medicine University of Lagos, Nigeria and undertook his Postgraduate specialist training in Obstetrics and Gynaecology in various hospitals in London and the South Thames West Region. He obtained the MRCOG in 1994 and took up a Clinical Research Fellow and Honorary Senior Registrar post at St George's Hospital in 1996. He studied the influence of abnormal vaginal flora and sub-clinical vaginal infections on various aspects of human pregnancy leading to the award of Ph.D. by the University of London. He was elevated to the Fellowship of the Royal College of Obstetricians & Gynaecologists in 2007.
He has to date edited several books and published over 150 papers, reviews, abstracts and editorial commentaries in international journals, and is regularly invited to speak and chair at numerous international meetings and conferences on subjects relating to infections in Obstetrics and Gynaecology, Pre-term delivery and foetal monitoring.
He is a member of the British Maternal and Foetal Medicine Society and the European Society for Infectious Diseases in Obstetrics & Gynaecology (ESIDOG).
Austin advises and works with the WHO as a member of the WHO Guidelines Development Group and facilitator for the reduction of maternal and foetal morbidity and mortality programme, and also as a member of the Pre-term Birth International Collaborative (PREBIC). He is also an assessor / panellist for the United Kingdom Confidential Enquiries into Maternal and Child Health, and Scientific editor for the British Journal of Obstetrics and Gynaecology and Infectious Diseases in Obstetrics and Gynaecology.
Austin Ugwumadu has clinics at Parkside Hospital in Wimbledon, London on Mondays and Fridays.
For a consultation with Austin please go to our contact page or complete the form on the right.